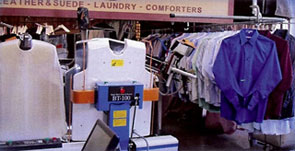 Are you looking to save on dry cleaning? Metro Cleaners will help you save money on dry cleaning service. Offering you quality dry cleaning service and care, we can pick up your order and drop it off for you at a price you can afford.
If you need professional dry cleaning service:
Wash, dry, and fold services
Leather and suede cleaning and repair
Wedding gowns – cleaned, restoration, and preserved
Down garments and silk specialists
Suits, shirts, and dress pants
Pick-up and Delivery Service Available
Fire and flood clothing restoration
Your house hold items we can dry clean:
Draperies and comforters cleaning services
Sheets
Table clothes
We can provide you with winter and summer storage:
Winter jackets
Shorts
T-shirts
Summer clothes
For your winter Cleaning in jackets and coats:
North face jackets
Columbia jackets
Wool coats
Down coats
Dress shirts
Suites and pants
Contact Metro Cleaners today at 978-532-6337, or browse our website for more information about alteration and tailor service or about metro cleaners.